Remember a few months back I started Dual Yellow Brightening Laser at ASTIQUE Aesthetic Clinic?
I really really love it, and I officially declare that it's my biggest "weapon" to fight against pigmentation that has been bothering me for so long. So today, I'm sharing a post-treatment update and three reasons why I love Dual Yellow Brightening Laser.
This picture was taken in Dec last year during my first visit to ASTIQUE Aesthetic Clinic. I was doing my first Radiance Laser treatment at that time. As you can see, I had pigmentation all over my face, particularly at my cheek and under eye area.
Skin pigmentation (also known as skin discoloration) is often a result of sun exposure (UV rays), hormonal changes, genetics, medications (such as birth control pills), pregnancy, skin aging or the wrong use of skin care products. When you've skin pigmentation, you'll notice that your face looks dull with an uneven skin tone and dark spots.
Many people think that pigmentation simply refers to the dark spots on the face. However, there are more than one type of skin pigmentation and depending on its type, its appearance differs too. Sun spots, freckles, melasma, and post-acne pigmentation, just to name a few.
Therefore, it's important that a patient with pigmentation be evaluated by an aesthetic doctor before embarking on any laser treatment. I'm currently seeing Dr. Celine Leong who is very experienced in lasers, botox and fillers. She's very friendly, hence I feel very at ease every time I see her. She'll also explain to me what she's doing, and constantly check if I'm feeling alright during the treatment.
Dual Yellow Brightening Laser Post Treatment Update
In case you haven't heard of Dual Yellow Brightening Laser, here's a short introduction. You can also read my previous post for more details.
Astique's latest Dual Yellow Brightening Laser provides total rejuvenation with greater control, increased comfort and reduced skin damage. This powerful and advanced laser features yellow and green light for fast and precise treatment for acne, melisma, scars, pigmentation, and age spots.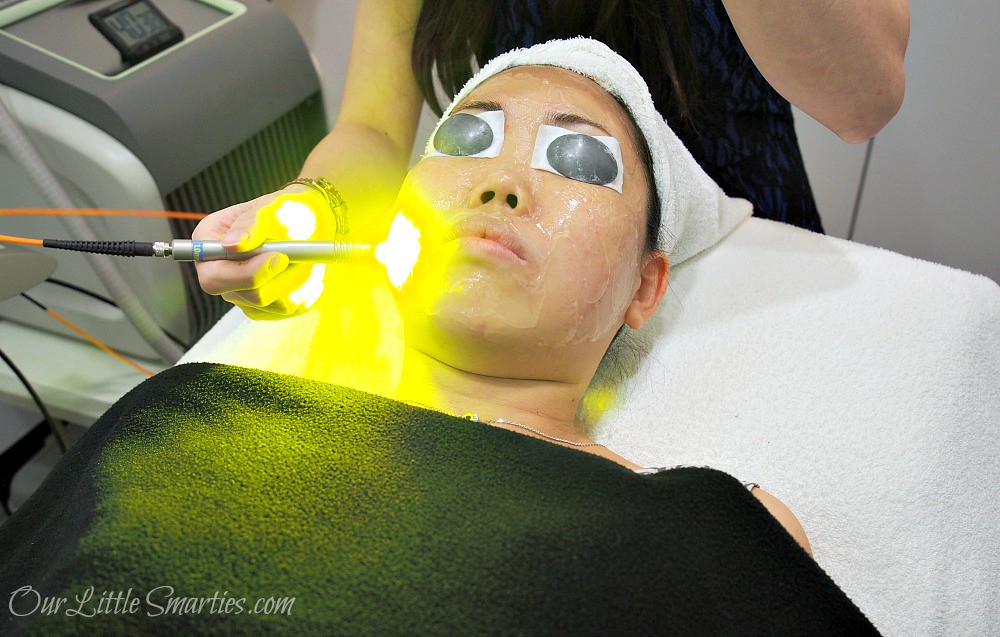 Prior to the treatment, my skin was thoroughly cleansed by a trained therapist. Then, she placed laser-protective covers over my eyes and applied transparent gel all over my face. The gel gives a cooling effect that's totally relaxing!
As you can see, the laser beam is very bright, that's why protection covers are required. But I assure you that it's totally painless. Therefore, it doesn't require any numbing.
I had my third session last week, and I'm continually amazed by its effectiveness.
Picture 1: After 1 treatment of Dual Yellow Laser
Picture 2: After 3 treatments of Dual Yellow Laser
Comparison between Picture 1 and 2 – side by side
Here are three reasons why I like Dual Yellow Laser:
1. There's absolutely no downtime!
Picture 2 was taken two hours after the Dual Yellow Laser treatment. You can see that my complexion was instantly brightened without any redness or scabbing. Make-up can be applied after the treatment, but I usually walk out of the clinic bare-faced. And I resume my regular activities thereafter since there is no healing time required.
2. It's FAST
Truth be told, I'm a rather impatient person. I dislike spending several hours on facial treatment. Therefore, I really love Dual Yellow Laser because it's fast. I never had to spend more than 45 mins for each treatment, including consultation and prior preparation. As no numbing is required, the treatment time is significantly shorter than other laser treatments too.
3. It's effective
Dual Yellow Laser delivers fast results. For my case, I could see visible improvements after just one session. After 3 sessions, my pigmentation and melasma have lightened significantly. Now, I'm confident to walk out even without make-up.
Dual Yellow Laser also stimulates collagen generation. Thus, I feel that my complexion is brightened after each treatment. I also feel that my skin texture is smoother and pore size has decreased.
My Verdict
I highly recommend Dual Yellow Brightening Laser because it's fast, effective and has zero downtime. It's difficult to get rid of pigmentation using topical creams and facial treatments. Hence, Dual Yellow Brightening Laser is a quick fix to achieve clearer and brighter skin.
ASTIQUE Clinic
350 Orchard Road, #08-00 Shaw House, Singapore 238868
Official Websites: Homepage | Facebook Page
Like ASTIQUE Clinic Facebook Page to keep yourself updated on their new products, treatments and packages.